Recipe: Picnic foccacia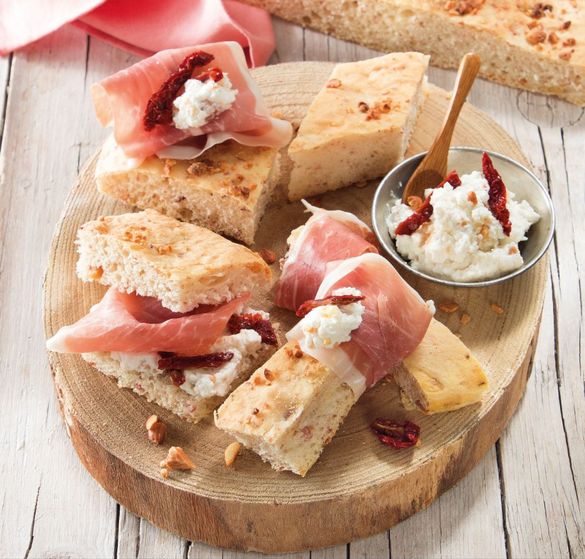 Winter has gone, the sun is back in town, and with it comes alfresco dining and picnic opportunities. Parma Ham is a healthy and delicious product to share with family and friends whilst soaking up some fresh air. For a successful picnic, try an 'easy to grab' food such as this Parma Ham peanut focaccia.
Fill it with ricotta, sun dried tomatoes or other favourite Mediterranean food items for a great snack on Bournemouth beach.
Method
 –         70g shelled salted peanuts
–        300g Plain flour
–        50g Manitoba flour
–        70g Parma Ham, thinly chopped
–        15g Brewer's yeast
–        10g shelled salted peanuts
–        200g fresh Ricotta cheese
–        40g grated Parmigiano Reggiano
–        4 Tbsp Fresh Cream
–        2 Tbsp Shelled salted peanuts, chopped
–        6 fillets Dried tomatoes
–        100g Parma Ham
–        oil as needed
Form a well with the flour, dissolve the yeast in a bowl of water, then pour it into the flour well. Mix with the oil and gradually add the necessary water. Add the Parma Ham and knead the dough until smooth and extensible. When you finish kneading, add salt and pepper to season.
Put the dough in a bowl, cover it with cling film, pierce the surface and leave to prove for 2 hours until doubled in volume.
Knead the dough again adding the peanuts, flatten it out and put it in a greased baking tin.
Cover and leave to prove in a warm place for 40 minutes, top with 10g of chopped peanuts, then put in the oven at 190°C for 25 minutes. Then, take the focaccia out of the oven and leave to cool.
For the filling, work the ricotta cheese with cream, cheese and chopped peanuts.
Cut the focaccia in half and stuff it with the cheese mix, Parma Ham and dried tomatoes cut in strips.
Fact file
Parma Ham is a Protected Designation of Origin (PDO) product and is 100% natural. The drying process that Parma Ham goes through creates a ham that is very low in fat content, with many mineral salts, vitamins, antioxidants and easily digestible proteins. This means that Parma Ham is truly a food for everyone.
Prosciutto di Parma is produced in the hills surrounding the Italian town of Parma.
The unique taste of Parma Ham is dependent on the traditional production process passed down from Roman times, carefully controlled by the Consorzio del Prosciutto di Parma.  Only hams that have passed stringent curing regulations approved by the EU can be awarded the stamp of the Ducal crown – a five pointed coronet logo with PARMA in the centre which is branded onto the ham's skin. The Ducal Crown is now a certification trademark.
Comments
comments
Powered by Facebook Comments